You will find here a number of resources providing information and training on, and comparison between, the various Online Office Software that is currently available, including Microsoft OneDrive with online versions of Word, Excel, and Powerpoint, and Google Drive and Google Workspace that use online office software such as Google Docs, Google Sheets, Google Slides and Gmail.
With the online, connected world of business growing rapidly, desktop software, such as Microsoft Office, Word and Excel, is being replaced by online office versions that are accessible from anywhere with an internet connection. This online software can incorporate many multi-user and collaborative working features, along with the integration of desktop office products and email, and be usable on a wide range of devices from desktop PC's to laptops, tablets and mobile phones.
The online versions of office software are often considered to be cut down or less featured than their desktop counterparts, and this is true to an extent. But for the majority of personal and business users the online office software versions are more than capable for creating all the documents, spreadsheets and presentations needed, and managing calendars, contacts and email.
Combining the power and convenience of online office software with the powerful tools included with multiple user options and collaborative online editing makes the online office versions a very attractive option for individuals, those in business, or those working in the academic field. If the full features and capability of desktop software is required by power users, with the need to create and edit large documents in Word, complex spreadsheets in Excel, or very large presentations in PowerPoint, then the PC based software is available, which can then be combined with or integrated with the online office versions.
Online Gantt Chart Software and Gantt Templates
If you're looking for a way to make your project management more efficient, consider using online Gantt chart software. Gantt charts are a great way to keep track of all the tasks involved in a project, and they can be especially helpful when you're working on a large project with multiple team members. With online Gantt chart software, you can create a Gantt chart for your project and share it with your team members. This way, everyone can see what tasks need to be completed and when they're due. You can also use the software to create Gantt templates for future projects. This can save you a lot of time and effort when you're starting a new project, as you won't need to create a new Gantt chart from scratch. There are many different online Gantt chart software options available, so be sure to do some research to find the one that's right for you.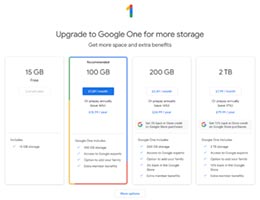 Google Drive is the base for the suite of office applications called Google Docs, Google Sheets, Google Slides, Google Forms, Google Drawings, Google My Maps, Google Sites and Google Jamboard. The range is free to use with only a Google account needed to access them. Overall, as would be expected from Google, the applications are all very well featured and accessible, rivalling both the online and desktop offerings from Microsoft. There is very good compatibility between the Google online office products and other office software such as Microsoft Word and Excel, and OpenOffice Writer and Calc. The initial free file storage for Google Drive is 15GB with the option to upgrade to Google One with 100GB file storage and upwards.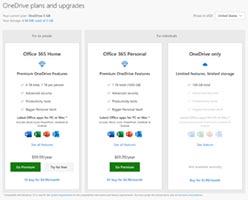 Microsoft has bundled its popular Office applications together with 5GB of OneDrive file storage into a free option, with premium subscription options available. This gives free use of the main Office suite of Microsoft Word, Microsoft Excel, Microsoft PowerPoint, Microsoft OneNote and Microsoft Outlook for email. It also includes access to Calendar, Microsoft Power Automate, Microsoft Forms, Personal Vault, Contacts (Microsoft People), and Microsoft Sway (a free tool for building interactive presentations). The online applications are full featured and suitable for all but the most advanced users, or those working with very big file sizes. Files from the Online Office programs can easily be downloaded, opened and edited in the desktop software versions, and there is in-built compatibility with the OpenOffice standard (ODT) and ability to save as PDF.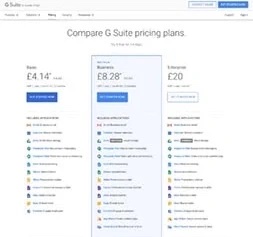 Google's Workspace (formerly G Suite) is the subscription based version of the free Google Drive based online office applications, productivity tools and collaborative features. Essentially the online office apps are the same in Workspace as in the free Google Drive versions, and they can be shared between free Google Drive accounts and subscription Workspace accounts. What really sets Workspace apart is the Workspace administrator facility, allowing overall account management for multiple users, and the ability to use your own domain name for email, with Workspace taking over all the email features from a web host. This brings everything together allowing a business to function entirely online through Workspace with multiple users with full administration over emails, file storage and permissions to view and edit documents online. Workspace has four levels: Workspace Business Starter, Workspace Business Standard, Workspace Business Plus and Enterprise.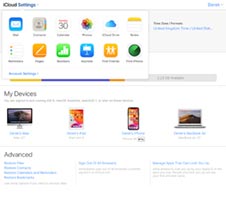 Apple's iCloud brings together the iWorks suite of programs. making them available online via a web browser and thus accessible to both Windows and Mac users. The main advantage of iCloud is for users of Apple products, such as the iMac, iPhone, iPad and MacBook. Apple iCloud allows sharing across multiple Apple devices, although the same can be achieved using Microsoft OneDrive and Google Drive as they are platform independent and accessed via a web browser. If you already own Apple devices then you will have access to iCloud by default, and the free online office products such as Page, Numbers and Keynote can provide an easy and accessible way of working on documents, spreadsheets and presentations. The online software is not as full featured as other offerings, and the Apple way of doing things may be different to what might be considered standard, but the software does have a large user base and following.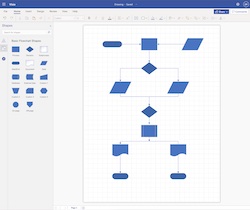 Visio Online is a cloud-based diagramming tool from Microsoft. It's used to create a variety of diagrams, including flowcharts, org charts, floor plans, and more. With Visio Online, you can create diagrams from scratch or start with a template. You can also collaborate with others in real time, which is perfect for team projects. And because it's cloud-based, you can access your diagrams from anywhere.
There are a few different types of Visio diagrams:
Flowcharts: These diagrams show the steps in a process. They're often used for business processes, like sales or marketing campaigns.
Org charts: These diagrams show the structure of an organization. They're helpful for visualizing how a company is organized and who reports to whom.
Floor plans: These diagrams show the layout of a space. They can be used for office spaces, homes, stores, and more.
Network diagrams: These diagrams show the relationships between different network components. They're helpful for troubleshooting network problems and planning network expansions.
Visio Online has a variety of features that make it a powerful diagramming tool. One of the most notable features include the ability to create diagrams from scratch or from templates.
A good Visio alternative online is called Lucidchart and is worth checking out. Another Visio alternative is SmartDraw and "includes a full Visio import and export, and the ability to import and save Visio stencils" so is a great alternative that can integrate with existing diagrams well.